SMTM: Budweiser, Tap Water and the Secret Beer Companies Don't Want You to Know
Posted by Jack Han on Feb 27, 2013 @ 11:31
Filed under Tech & Sports
Weekly Segment: "Show Me The Money" 
Beer drinkers in the US have filed a $5m (£3.3m) lawsuit accusing Anheuser-Busch of watering down its beer.
The lawsuits, filed in Pennsylvania, California and other states, claim consumers have been cheated out of the alcohol content stated on beer labels.
The suit involves 10 Anheuser-Busch beers including Budweiser and Michelob.
Anheuser-Busch InBev have called the claims "completely false", and said in a statement "our beers are in full compliance with labelling laws".
The lawsuits are based on information from former employees at breweries owned by the multinational.
"Our information comes from former employees at Anheuser-Busch, who have informed us that, as a matter of corporate practice, all of their products mentioned [in the lawsuit] are watered down," lead lawyer Josh Boxer said.
The complaint claimed that "Anheuser-Busch employs some of most sophisticated process control technology in the world to precisely monitor the alcohol content at the final stages of production, and then adds additional water to produce beers with significantly lower alcohol contents than is represented on the the labels".
Source
After graduating from McGill University with a degree in marketing, I became one of the four recent grads across Canada to be drafted by AB-InBev into its Global Management Trainee program.  During the course of my time at ABI, I had the chance to work with the production crew at three different breweries (Montreal, Edmonton and St. Louis) and learned more than I ever thought possible about how to make beer.  Here are my unfiltered (pun intended) thoughts on the lawsuit:
The Worst-Kept Secret in the Beer Industry
I will start off by confirming the rumors.  YES.  Budweiser waters down nearly ALL of its beers produced in its network of breweries across the world.  As the largest beer producer on the planet, they pump millions of liters of water into their products at the end of the brewing process before putting everything in glass bottles, plastic bottles (in some countries) and aluminum cans.
However, this does not mean that AB-InBev is guilty of misleading the consumer.  Indeed, the practice of watering down beer before packaging it is called High-Gravity Brewing and is used by all large-scale brewers.  As a matter of fact, it accounts for almost the entire volume of beers produced in the USA.  That's right, nearly every American man, woman and child is already drinking watered-down beer, thanks to High-Gravity Brewing.  (Fact: 9 out of 10 beers in the image above are produced using HG methods)
So What Is High-Gravity Brewing?
HG brewing is probably one of the biggest breakthroughs made in beer manufacturing in the past century.  Essentially, the process helps the brewer save money in production costs.  Instead of brewing Budweiser, or Beck's, or Stella Artois, or Labatt Blue, or Alexander Keith's IPA, or Shock Top, or Rolling Rock at their advertised ABVs (alcohol by volume), AB-InBev chooses to make the mother liquid far stronger earlier on in the manufacturing process (7-8% ABV rather than 4-5%).  After the mother liquid is fermented and its properties analyzed, water is pumped into the very final stage of production (before packaging) in order to bring the ABV back down to the target percentage.
The benefits are three-fold:
1)   Smaller boil and fermentation tanks are needed to product the same volume of beer
2)    Less liquid to transport early in the process= easier and less energy-intensive to pump the unfinished beer from one part of the brewery to another
3)   Adding water at the end makes it easier to ensure a consistent final ABV, color and flavor profile
Basically, by using high gravity brewing, a company the size of ABI can save tens of millions of dollars each year in equipment and energy, while putting out a more consistent finished product.  In addition, it's a lot easier to brew a liquid which could be Budweiser (5%), Bud Light (4%) or Bud Platinum (6%) with just one minor change to its composition.  From a corporate point of view, it just makes sense to use HG.
What Are the Downsides to HG Brewing?
In its simplest expression, HG brewing means making a beer concentrate, and then watering it down.  If you can imagine the differences between a glass of fresh-squeezed orange juice and a glass of watered-down Minute Maid concentrate, then you can grasp the disadvantages of the HG process.  It's difficult to make a strong, flavorful beer if you are going to be pumping soda water into it at some point.  That's why most macro-brewery (so AB-InBev, MillerCoors, Molson, Corona, Heineken, etc.) lagers taste so watery and feel over-carbonated.  The mainstream stuff still gets the job done, if you want to get drunk, but you will definitely not be getting the same sensory experience as with a quality micro-brew.  It's like getting coffee at Tim Horton's or Starbuck's, as opposed to sitting down to a great cup of espresso made with the best coffee beans in a high-end machine.
However, I Think the Current Lawsuit is a Crock of Bullshit
Yes, AB-InBev does water down their beers, but legally that's completely immaterial, as long as they are watering it down to the advertised ABV.  Having spent months in the sometimes-hot sometimes-freezing and always dank confines of three separate ABI breweries, I am confident about two things:
1)   I'd rather lick the bottom of my shoes every morning than work in a brewery again
2)   The men and women working in production in ABI facilities are great at their jobs and they really know what they're doing
Not only that, but the production team's performance is based, to a very large degree, on the consistency it is able to achieve in its outputs.  No less than a four-man team each shift is dedicated to making sure that each batch of Budweiser is exactly the right shade of cat-piss yellow and 5.0% ABV on the dot.  It would take some sort of a company-wide conspiracy, where all digital and analogue testing equipment are systematically miscalibrated, for the beer's alcohol by volume content to fall even 0.1% below standards.
The Plaintiff Accuse the Brazilians of Being Cheap, Are They Really?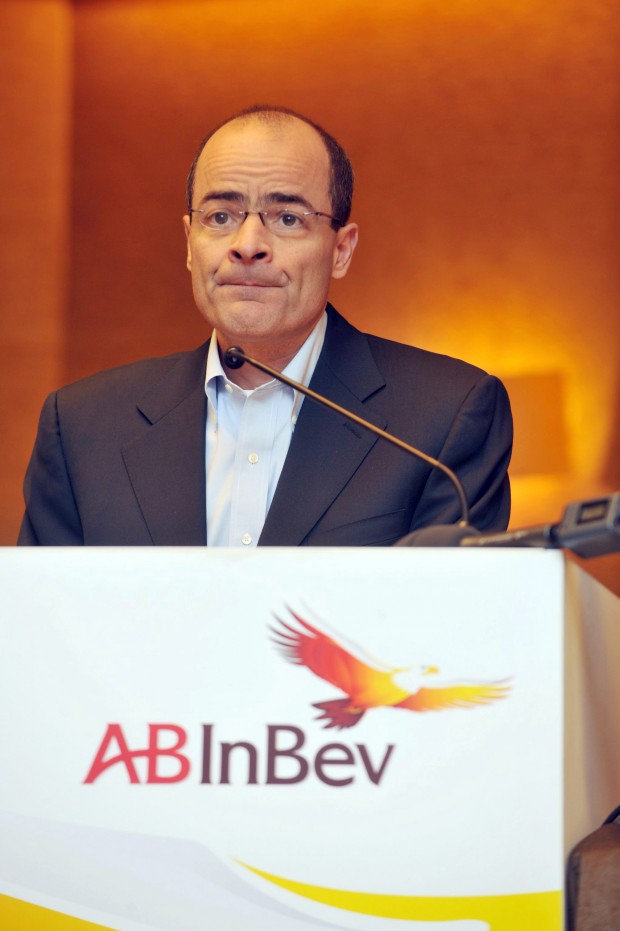 (CEO Carlos Brito, rich Brazilian guy & my former 5:30AM gym buddy)

"The lawsuit alleged that the practice began after the American Anheuser-Busch merged with the Belgian-Brazilian InBev in 2008, to form the world's largest alcohol producer.
'Following the merger, [Anheuser-Busch] vigorously accelerated the deceptive practices, sacrificing the quality products once produced by Anheuser-Busch in order to reduce costs,' the lawsuit said." (BBC)
In a word, yes they are cheap.  During my time in Saint Louis, I was told two hilarious stories to this effect:
1)   In an effort to cut overhead and meet cost-reduction targets in one of ABI's Brazilian facilities, the plant's landscaping services were terminated.  They were replaced by three goats, which would be let out every other day to graze in the grassy areas of the facility so that the hedges and lawns would be kept neat.  At the end of the year, the aforementioned cost reduction targets were met, and the staff celebrated by having a goat BBQ in the company parking lot.
2)   Also in the name of cost reduction, an employee was put on the case of analyzing toilet paper usage in a Brazilian brewery.  He suggested replacing the small rolls of TP in each stall with a larger roll placed at the entrance of the rest room.  The suggestion was accepted by management when he proved, using mathematical formulae, that a cost saving would exist even it employees started taking more toilet paper from the large roll in fear of not having enough after their porcelain cruises.
Since 2008, ABI's profit margins have been going up significantly.  In the last set of financials I was privy to, ABI made more than $30 in pure profits for every $100's worth of beer it sold.  That's the highest figure in the beer industry by a country mile.  Yet, volume sold has stayed pretty much constant.  If ABI really has been watering down their beers under the directives of the Brazilians in charge, then I would have expected overall volumes to go up sharply since 2008.  After all, people need to get drunk.  But that hasn't been the case. 
Also, Consider the Feds
If, it turns out, ABI really has been doctoring ABV ratings, a bunch of angry guys with beer bellies should be the last thing on their minds.  There is a good deal of oversight from various government agencies preoccupied with everything from consumer protection, international trade and liquor taxes.  Selling 4.5% beer masquerading as 5% beer to an unsuspecting public can mean a few hundred million dollars in fines.  ABI, with its nearly monopolistic position in the American market, is walking on eggshells as it is.  The last thing a corporation which has close to 50% domestic market share wants is to piss people off and become the next AT&T (which got sued by the ENTIRE U.S. government for being too big).  Trying to screw consumers by offering less booze for the buck is just bad business (not to mention a dick move).
One Final Thing…
According to media sources, the plaintiffs in this week's lawsuit are asking for $5 million dollars.  That's absolute chump change in the grand scheme of things.  ABI spent three times that much money on ONE 30-second Superbowl ad spot.  In fact, they bought closer to half a dozen of those spots, promoting Budweiser, Bud Light, Bud Black Crown and Beck's Sapphire.  The legal department must've laughed its collective ass off when they saw the dollar amount of the lawsuit. 
On the other hand, the Budweiser PR department probably found the news far more alarming.  Wouldn't want to be them right now...
Jack found working at AB-InBev so skull-crushingly boring that he once fell asleep on a 2PM conference call while sitting next to his immediate superior.  He managed to escape and now works in digital marketing.
Check out Jack's other contributions for IX here.
Twitter: @KSplayersClub
Instagram: SoireeCulturelle