In The Studio | Considering The Ways in Which Violence Inserts Itself Into Communication
Eros is a touring event that will combine works by international and local artists. 
These talented artists will be touring to showcase their art works, at Projet Pangee (December 16th), and Godberd (December 22nd) with performances by Santiago Tamayo Soler, Marie Segolene, Vicente Ugartechea, Catie Rutledge, Holly Timpener and more. 
Inspired by the history of the Cabaret Voltaire, and the contemporary performance evenings such as NYC's Incarnata Social Club, this simple informal event aims to provide accessilibity to a variety of performance asethetics while bringing together international and local artists in an environment of open exploration. 
It just sounds fantastic to say the least. In order for us to get you prepared for their shows, I decided to explore their background and overall inspiration when it comes to the work. Let's dive into their world and get to know as many of them as possible, continuing with Stephanie Creaghan, through her bold and beautiful performance art that pushes boundaries. 
We asked him to answer a lil' Q&A for this In The Studio series leading up to the first date of the shows, and he delivered in the form of very poetic responses. Scroll through it after the jump. 
How would you describe Stephanie under 140 characters?
I am a Montreal-based artist and writer whose work considers the ways in which violence inserts itself into communication. I am the occasional purveyor of long-sleeve t-shirts as well.   
Describe to us what a typical day in your life looks like? 
It starts off with coffee in bed with a book, proceeds with probably meeting at least two people for coffee or to work on a collaboration, there's food somewhere in between, there's two or three hours at my jam space or at home going through video footage or editing, and it usually ends with watching a movie. Maybe I'll to go to the gym.
What is your favourite medium to work in? Performance? Video? Installation? Sculpture?
Everything starts with writing, and usually ends with performative video work.
If you had to pick a gif that represents your art, what would it be?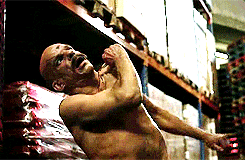 What is something people would be surprised to learn about you? 
I'm a classically trained pianist.
What can someone expect from the Eros show coming to Montreal? 
Arousal and discomfort.
Any upcoming projects you can tease with us? What's to come?
A few of the things I'm most excited about I can't speak about just yet, but keep your eyes peeled for a presentation on Nuit blanche at Projet Pangée in 2018…
#