PREMIERE | Dive Deep Into LIA's World With Her Debut Single "Shiver"
LIA is a multi-talented singer-songwriter and producer. 
Her debut single, produced alongside Frame, is titled "Shiver" - A stripped-down production with a progressive chorus line + her echanting vocals layered on top of the whole thing. The tune evokes all types of emotions, including a slow wind-and-grind feel, almost cinematic, which belongs in any scene out of Sense8 on Netflix. 
I wrote it about being unable to draw the line between fucking and making love.
We are honoured to premiere this single and to keep LIA on our radar as she reveals more and more out of her debut EP. We asked her a few questions to get to know her better and she delivered. Click play on "Shiver" below, and scroll through the Q&A. You can also grab the tune off your favourite streaming service after the jump. 
How would you describe LIA under 140 characters? 
Tapping into a well of feeling and sipping it dry.
When did you start discovering your sound? 
It started when I first got into listening to electronic music a few years ago. Living in Montreal where the electronic scene is so bubbling, I fell in love with and became so intrigued by electronic production.  Once I started sitting in on studio sessions with my friends producing I realized how much thought and theory goes into what they were doing. I've always been drawn to grand and highly emotional music so Bon Iver and Banks were huge igniters of me finding my sound and thinking about what I wanted to communicate with my project - for one, honesty. I started producing after getting inspired by seeing Banks live for the first time in 2014. Once I experimented with different styles of production to best suit my stories and voice I nestled into the sound that felt best matched to the emotion of my songs. My production is also hugely influenced by my friends who produce so tips and tricks they've told me all go into my songs and especially in my experimentation. Working with Frame, Robert Robert and Thomas White has been such a treat for me. When Frame and I first started collaborating in 2015 that was a huge switch for the direction I wanted to take my production since his was crafted with such passion and depth and heaviness. Vocally I've been developing my sound for a long time, I've sang all my life and used to sing a lot of Adele songs and Sara Bareilles as my voice was developing around age 15. At the same time I was singing as a soprano in the chamber choir in my high school so I learned how to sing with proper technique as well as with soul and sweetness from the artists I loved emulating. 
If you could describe your sound/vibe/world using a gif you found online what would it be?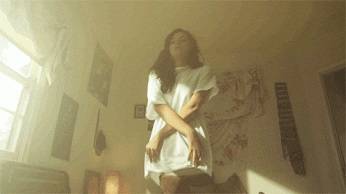 Everything I write about is coming from such a vulnerable place that I rarely address it in reality so I talk about it in my LIA world but sometimes it allows it to vanish and makes me feel like I don't need to face whatever it is even though I still do. I shed a layer and become vulnerable with my music but in doing so, what's hiding underneath the layer becomes hidden in my music. I started writing at 16 - at first it was all super shallow stuff but as I got older I looked at my writing as a sort of crossword puzzle where I wanted to come up with a roundabout way to say something so that the message was hidden in plain sight. I liked that this approach kept my lyrics very unique and made me really think about my internal state and my perspective in a situation.  
How long did it take you to put together your debut? 
I made the demo 10 months ago, Frame and I produced it over a period of a month from November to December and then organized for the video to be shot this past January. By March it was edited and ready to go. Also since this is part of an EP, I was working on the three other songs and planning for the other videos over this period of time as well. 
What can we expect from this release? 
A piece of the puzzle - the EP is a progression of the stages I go through in grey relationships. A grey relationship is when a dynamic is not completely casual but also definitely not fully committed - the feelings are there but fleeting. The communication is at an all time low so both parties are just left guessing the entire time. The EP starts with the 1. establishment of being casual then the 2. inability to control fucking vs. making love then this 3. idealism that arises where you start to fall for the person and see them in rosy light and then the 4. end because as soon as there's attachment someone always gets afraid of where this could go and shields themselves from addressing their feelings. Its four songs written about these four stages and this release is just one part of it. 
What's the next step after releasing your first solo music video?
Realeasing more singles from the EP, with another music video that's a collaboration with Made by Malo and then throw a live show for the EP release. 
#
Listen to "Shiver" on Spotify right here: 
Not into Spotify? Pick your favourite streaming service right here: https://nwds.lnk.to/liaxframe-shiver