WATCH | Scarlet Pleasure Release Visuals For Their Infectious Song "Deja Vu"
You better watch out for this Danish R&B/Pop trio. 
Scarlet Pleasure got on our radar as soon as we got a glimpse of their latest music video for their amazing new single "Deja Vu" - 
As soon as you hit play on this one, you will get hooked to the catchy bridge and chorus and will want to play it over and over again as you sing along to the lyrics. What's interesting, is the fact that this song will immediately make you feel like you are going through a Deja Vu as you realize that you're singing along by the time the chorus hits for the second time. 
The video for their new single "Deja vu" is a spellbinding and aesthetic flicker of frames caught on camera and cell-phones. It's lo-fi meets HD and it's also Scandi meets southern European culture.  Director Ryan Løkken did a great job at transcribing the entire feeling of the song through cutting-edge visuals. 
You might be amongst the first people in North America to watch this, so make it count. We took the time to interview them so you can get to know them a bit better, scroll through it after the jump: 
When did you start making music ?
We all went to the same school. Actually the same class. We started the band in 8th grade.
If you could describe your music using an emoji (or various emojis) which ones would you choose?
Vespa: http://emojipedia.org/rose/   
Sunset:  http://emojipedia.org/palm-tree/
What is the last text message you sent to each other (or received)? 
We have a thread on messenger that we use a lot. Last night, after a long day in the studio, we texted back and forth about how excited we were about this new song we had been working on. We could't really find the words to describe the vibe of the song, until Emil (singer) wrote "dybt og dumt" which means "dumb and deep".
If you could pick one gif that describes your latest single "Deja Vu" which one would it be?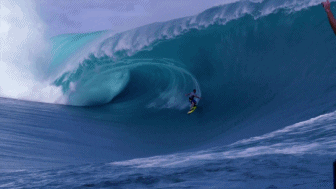 We use the term wavy a lot to describe a hot sound or feeling in the studio and this gif is def. wavy.
What are some of the things that inspire you to make music? 
Can be anything from a line in a movie, to seasons changing. We also keep coming back to nostalgia. That's always a good source of inspiration.
Who came up with the concept of the music video for "Deja Vu"? 
Together with our creative director Morten Winther and video director Ryan Løkken, we came up with an idea that didn't necessarily include a narrative, but instead a random collage of images.  As soon as we had the vibe and lyrics for the song, we became inspired by the minimalistic southern architecture and the period of art with Miro, Picasso etc. So this video is kinda like a tribute to a certain time and type of art that fascinate us at the moment.
If you have one thing to look forward to in the near future, what would it be?
We are on a really good strike right now, there's so many great ideas to work around. We just can't wait to hit the studio again and do what we love most, create new music.  
#
Follow Scarlet Pleasure on socials: 
facebook.com/scarletpleasure
instagram.com/scarletpleasure
twitter.com/scarletpleasure