Q&A | Cadence Weapon Joins Del The Funky Homosapien On Stage For M for Montreal
M.W.A (MTL With Attitude) will bring together legendary Del The Funky Homosapien – his first time performing in Montre​al since 2006 alongside rappers Lou Phelps, Cadence Weapon, Clairmont the Second, Flawless Gretzky, Mike Shabb & Kevin Na$h, and WordUP! Battles & FouKi for an unforgettable urban night at the Cabaret du Casino.  
We will be co-presenting this night as a part of HUB Fest, powered by Casino de Montréal in collaboration with M for Montreal and have decided to hit up most of the rappers performing that night to get to know them a bit better in anticipation for the lit event that's to come. 
Just in time for this show, Cadence Weapon just released the third single titled "Large" from his forthcoming self-titled album. He describes the single as 
Anthem of independence. It's all about brewing out of that box and being whoever I want to be, creating my own wave and doing it big, in my own way.
His self-titled album will have a notorious amount of local talent on there including names such as 12-track album features appearances from Deradoorian, Blue Hawaii, Brendan Phillip and Casey MQ and tracks from producers, Kaytranada, Francis Got Heat, Jacques Green and Harrison. It's his first album since his last release in 2012, so you can definitely say it's going to be huge. 
We decided to hit him up with some questions and learn some fun facts about his process and who he is. Click play on his latest single "Large" below and scroll through our Q&A: 
How would you describe Cadence Weapon under 140 characters?  
Cadence Weapon is electronic rap music inspired by Gil Scott-Heron, Gucci Mane and Green Velvet in equal parts.
Describe to us what a typical day in your life looks like?  
Wake up, eat a big bowl of cereal, start hacking away on the computer. Rap for a few hours, do some interviews. Have a meeting at some point. Maybe hit the gym or the court. Might have a session at night at the studio. Try and catch the Raptors game. Might cook some complicated meal for dinner with my girlfriend if I'm lucky. Maybe link up the crew and DJ somewhere.
If you had to pick a gif that represents your music, what would it be?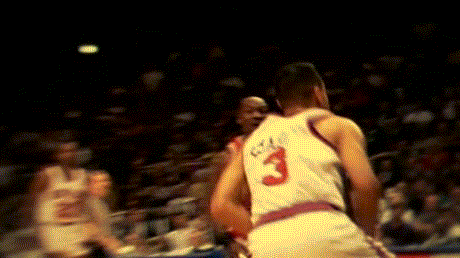 What is something people would be surprised to learn about yourself? 
I was a body double in the 2000 Chevy Chase-starring movie Snow Day.
How involved are you when it comes to visuals or music videos? 
I'm very involved in the whole process. I work directly with the directors. In the past I've even written the treatment myself. I always want to have creative, groundbreaking videos, I've tried to make that my trademark.
What can we expect from you forthcoming self-titled album?
Lots of MTL production on there with KAYTRANADA, Jacques Greene and Blue Hawaii. It's a pretty diverse album. Elements of trap, funk, electro, techno, UK afrobeats and grime. It's the first album I've put out without any beats by me. Some of the themes of the album are technological miscommunication, dancefloor politics, conspicuous consumption and the end of the world.
Montreal seems to be a place that is close to your heart, what inspired you the most about the city? 
The appreciation for art that is apparent in every facet of life. Montréal has this amazing effect on people, I noticed it in myself when I lived there too. It's an environment that encourages you to be yourself. It brings out your creativity and gives you the courage to be your most artistic self. There's no other place like it in the world.
#
Catch Cadence Weapons at M With Attitude night  @ Casino de Montreal Friday 17 NOV. from 09:00 PM to 02:00am
Saturday November 18 with Deradoorian, Vesuvio Solo and Best Fern at La Vitrola - 11:30 PM (DJ Set) - https://www.facebook.com/events/142098659871170/
-
Main image courtesy of Stacy Lee