WATCH | Montreal's Clyde Forest Delivers Grungy Vocals On His Debut Single "Pieces of Mind"
You need to get on this. 
Montreal has a new artist on the scene, and he goes by the name Clyde Forest. This dude got on our radar as soon as we laid eyes and ears on his craft through his instagram profile and his debut single. 
Immersed in a place that lies between contemporary urban with a rock flare, Clyde Forest delivers grungy vocals, almost raw enough to remind you of one of your favourite 90s bands transported to this day and age. His debut single titled "Pieces of Mind" is a perfect example of what he's capable of. Swoon over his dark lyrics, layered on top of a genre-bending trap influenced beat, sprinkled with punk-like trumpets and riffs that will keep you wanting more. 
The single "Pieces of Mind" is accompanied by a music video, set in different locations, filtered with a desaturated look to elevate the deep dark vibes of the song, showcasing his ecclectic trending style and good looks all throughout. Watch above. If you're finding yourself wanting more, don't hold back, scroll through his instagram profile to find his acoustic-style videos as well as on his youtube channel, you won't regret it. 
We definitely wanted to know more, so we sent over a few questions to Clyde Forest so we can get to know him better. Scroll through our Q&A below: 
How does it feel to finally get to release music to the world? 
It feels amazing, like the first step into a whole new world for me. I've been waiting for so long to really put my sound together and put out something close to my vision. I was not expecting so much love from people and that is a very good feeling. It's a relief, but the best is yet to come.
If you had to pick a gif that represents you/your music, what would it be?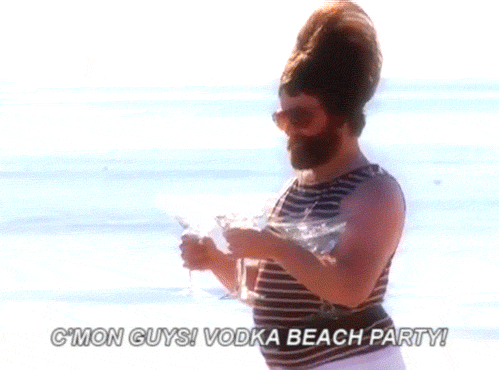 Who produced your debut single? What was the inspiration behind it?
Joey Sherrett, the ex-producer of The Poster. It is mostly a combination of grunge and rock music, with a touch of trap, hip-hop roots and dynamics. We listened to a lot of artists from a lot of different styles to understand what I really wanted. The challenge was to keep the music as natural and raw as possible.
Do you feel it is important to collaborate with other people from the Montreal scene? Who are some of the key people you'd want to work with?
It's so important to help each other. I love getting together with other artists and using our individual strengths to create something unexpected, like Husser and Charlotte Cardin did, for example. Montreal is a small community, and no matter our style there's always a special touch to someone's work that can be the key to both artists' success. It's beautiful to see artists mix their knowledge and style to create better music.
What is something people would be surprised to learn about you? 
I don't really know actually; maybe it's a lot of things or maybe it's nothing. I do things, try to evolve, stay true to who I am. I'm actually a nice guy! It's sad that this is my surprising fact, but it's the only thing people have really told me in the past. l met someone at a party once and they already knew me, and at some point they said to me, "Hey, you're actually a really nice guy!" and I thought, "Do I really look like an asshole?" Haha.
Describe to us what a typical day in your life looks like? 
Typical day…  that's a hard one, cause erryday's new for me, but my most "normal" days look like: wake up, probably a bit hungover, drink like a litre of water, light one and get ready to go in like 10 minutes. I go to work and cut hair for like 10 hours and, while I'm there, I'll eat a burger at Uniburger (tha shit), talk about music stuff with my managers, and then get back home, light one, crack a beer, write some music, record some music, then watch a stupid movie to fall asleep then do it all over again in the morning. With slight changes fo sho. My days off are all about studio time and practice with the band (that you'll meet soon). Ah and being with my friends!!
Any upcoming projects you can tease with us? What's to come? 
I can't say too much, but an EP project is obviously in the works, plus concerts, more video clips, more songs, more fun, more me. It's only the beginning. Stay tuned on my Facebook and Instagram pages! A lot of new (and good) stuff will be happening in the coming weeks.
#
Artwork by: Josée Forest