Q&A | Dear Lola Gives Us An In-Depth View Of His First Solo Release In Years: Lola's Room
You've for sure heard of Dear Lola, somewhere, sometime, especially if you're from Montreal. 
He's produced music for the likes of Wasiu, and many others. We've covered him before, and now we have the chance to explore a lot more of him with his most personal project to date: Lola's Room. 
The first solo project he's released in years, Lola's Room started as a live interactive game, where you could explore Dear Lola's universe all while listening to the songs off this EP.
I immediately felt nostalgia take over my senses when I hit play and listened to the EP, which ended up playing on loop since it is so easily digestible and very ear-pleasing (to say the least) - You'd be crazy not to be able to pin-point some of the recognizable samples on these tracks, as he brings these familiar riffs to a modern day today. 
Decided to explore the project a little more, and sent him a few questions to answer, and he delivered. Scroll through our Q&A after hitting play on his EP: 
How would  you describe Dear Lola under 140 characters?
That question gave me anxiety
Describe to us what a typical day in your life looks like?
A good balance between sleeping, smoking, eating, and working on my projects.
If you had to pick a gif that represents your music, what would it be?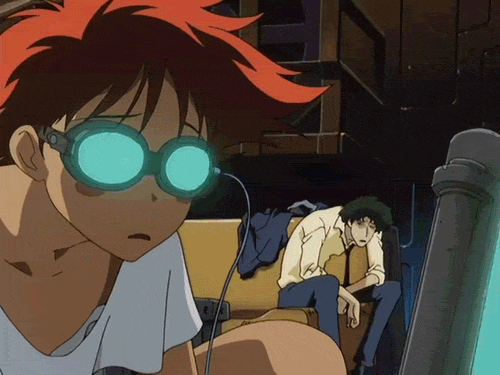 You just released your first solo EP in 3 years, why did it take that long to put it out there?
There are tons of reasons for this, but some of the less personal ones are that I was very busy running RAW Records, and started working with Wasiu at the time. DJ Shadow had shown interest in my music after playing one of my remixes on BBC1, so I tried working on an EP for his label for a while but that didn't end up working because I wasn't feeling inspired enough by the vibe he was looking for. After that, I decided I wanted my next release to be special, so 2 years ago I picked up pixel art and game development in an attempt to create my own interactive universe. I ended up doing it with the help of my very best friend Louis Trudel who was inspired by what I was doing and literally ended up taking over programming.  I can say now that it's a gratifying experience, but there was a definite learning curve (we did it all ourselves, watching youtube videos and puzzling things out between us) which took a lot of time away from music production. I still pushed through, and insisted because it had been a childhood dream of ours to create our own video game.
What is the last text message you sent or received about the EP? 
You released this EP on twitch, as an interactive project, talk to us a bit about the process of putting it together? 
actually, the project has been released on a stand-alone website lolasroom-com.stackstaging.com - that was the tricky part because we wanted it to be a web-hosted game. it was first designed in GameSalad about 2 years ago, after a few sketches, and when came time to publish it, the program wasn't built to translate it's native language to a web-based one so we were right back to square 1. Then we switched to GameMaker, which we thought would be able to handle the translation, and after re-building it from scratch we found out that it wasn't and once more we were left with nothing to show which was a huge bummer. Finally, Louis really manned up and learned C# in order to re-program the whole thing in Unity (my man learned a whole programming language by himself on google so he could get it done, I'm forever touched by how much of a legend he is) and we were doing really good at re-building it once more, but then something happened. Louis, who had just met his girlfriend like 5 months ago, was having a baby. They had gotten pregnant, and decided to keep it. That really took him away from the project for a while, and I honestly cannot blame him for it. Having a baby is hella work. You gotta take care of your kid, you gotta be there for your partner, you gotta work, and he did all that like a champ. His kid is named Theodore and I'm the proudest uncle on earth. So anyways, I had honestly made my peace with the fact that it might never see the light of the day, and was ready to move on, but at the begining of 2018 Louis told me that he wanted to give me the ultimate birthday gift: a fully working version of "Lola's Room".
A lot of your work is heard through other artists you've produced for, do you prefer working on solo project or with other artists? and why 
What I really like about collaborative projects vs. solo projects is that I feel it's easier to "finish" them. When I'm working alone, I always see 100000000 different variants/possibilities, and that gets overwhelming to me. For example: Boys12 was actually made 6 years ago, but I always felt like it needed to be reworked because like...... obviously it did right? Well no. 6 years later, I ended up barely changing a thing, giving it a mixdown, and there it is. I'm just picky about who I work because I've had people waste my time in the past.
Any artists you would dream of working with?
LIL B THE BASED GOD
How has Montreal contributed to or inspired your work? 
Eating fresh warm montreal bagels for sure elevated my mind to another level, I want my music to feel like that first bite.
What can we expect from you in the near future?
I have some more video game projects coming up, conceptualized but not fully developed yet (mostly because the web is an ever changing beast and we're trying to figure out what the best method will be for the future). As for myself, I've been streaming live production session on twitch/youtube regularly, and I've accumulated enough music in the past 6 months to really start thinking about a putting together a bigger project. Lola's Room was kind of a weight on my shoulders, and releasing it felt really good, but I've come so far since these songs were made. I can't wait to show everyone what's next. Also, I don't know how much I can say about it, but I've been making music for a documentary series, and it's some of my best collaborative work. I'll just leave it at that.
#
twitch.tv/dearlola1
twitter.com/dearlola1
facebook.com/dearlola