PREMIERE | Dance While Streaming The Entire MM Crone EP Before Its Release
Sit back, and indulge. 
MM Crone is a Montreal duo comprised of Philippe Petit and Margaux Tabary. They make gritty indie electro music with a twist. You'll probably do a double-take at first, but don't stop, let the unusual vocal delivery seep into your ears as you'll get the vibe the more your listen. 
Their retro sound, in a modern day today, is a mix of indie synths sprinkled with a faint dose of italo-disco, reminiscent of the 80s sound that still stands very strong today. Their latest project is a 5-track EP that encompasses an entire mood and universe that will leave you dancing with your hands in the air, alone in your room, and wanting more. 
The entire thing will be available on February 16th followed by a release party in Montreal on Feb 24th.
However, we've got an exclusive pre-release stream for you all. Scroll through our Q&A and listen to it all after the jump: 
How would you describe MM Crone under 140 characters?  
Neon dripping lo-fi, like the retro sound of a future town. 
Describe to us what a typical day in your life looks like? 
Phil - Get up, watch last night's late show while eating fruit, then start scheming for world domination. Mostly involves emails, staying positive and the magic of google. Then, when the sun goes down, grab some rhum and head to the studio for part 2 of world domination plan.
Margaux - Get up, go work on costumes at the opera, have a nap and head to the studio !
If you had to pick a gif that represents your music, what would it be?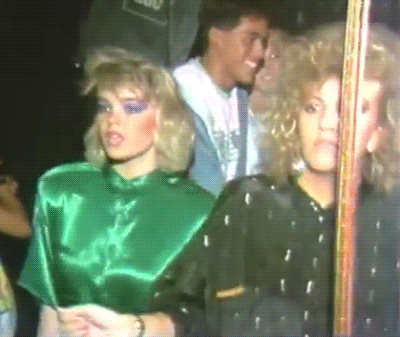 What is something people would be surprised to learn about you? 
We really have to try hard not to post pics of our pets on social media..... and we cut each other's hair.
Take us through some of your process of putting together your EP?
Most of the songs on the Ep were written about a year and a half ago (by Me, Philippe), right before Margaux joined the project. With Margaux aboard there was a lot of rethinking and re-recording to do, so we basically spent all of our free time in the studio recording and mixing and about 8 months later we had put together what is now this first Ep.
What inspired you the most when making music?
We definitely find inspiration in movies, pictures, clothes and soundtracks form the 80's.... the John Carpenter stuff and italian horror movie soundtracks definitely helped define our sound. This Ep specifically, i feel was inspired by late nights, girls and drugs.
#
If you are in Montreal, join them on Feb 24th as they will be celebrating the release of the EP at Bar Escogriffe: click here
Learn more about them here: