LISTEN | Vancouver's SO LOKI Drop New Hype Track "HBO"
Time to hype yourself up with this beat. 
SO LOKI is a Vancouver-based duo, they got on our radar first when we posted one of their tracks in our THEFIX column. This time around, we get a new tune titled "HBO" that made us do a double-take. 
The tune definitely remains in the realm of their sound, full of grit, a spark of punk, and all around anthem-like lyrics that will have you chanting as you hit the chorus for the first time. 
Hit play below, and scroll through our Q&A after the jump: 
How would you describe SO LOKI under 140 characters?  
Bald dudes with heat
What can someone expect when listening to your album 'V'? 
They'd hear what we were going through a year ago, lots of struggle shit, and it was definitely on the more experimental side of the spectrum
Describe to us what a typical day in SO LOKI's life looks like? 
We meet at 10 to do breakfast and a J, write music until 3 then eat lunch (usually forget until then), write until 630 then cap it off by meeting with people cause we realized we don't go outside enough 
If you had to pick a gif that represents your music, what would it be?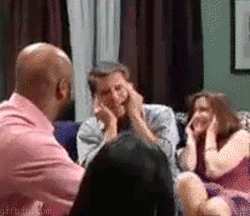 What is something people would be surprised to learn about you guys? 
We eat a lot of "mama" ramen cause it's a recession and that shit hot
How important do you think it is for you to represent Vancouver through your music? 
It's where we are right now so we've definitely found a place for it within ourselves. Few others want to so why not.
Any upcoming projects you can tease with us? What's to come? 
We're working on a mixtape which is half done and we're trying to get it out before the end of the year. We asked people to send beats too and accidentally put our e-mail in a tweet and we've been getting spammed non stop since haha.
Follow SO LOKI on socials: