WATCH | Premiering Stellina's New Visuals For "LITE LITE" Produced by L-SPEX
Submitted by
Staff Picks
on December 21, 2017 @ 9:07am.
Stellina, aka Justine Iaboni, is an established Canadian lifestyle blogger known as Jetset Justine. She grew up as a classically trained pianist and vocalist, but gave up music due to emotional abuse and discrimination when she was only 12. She shied away from all things music because she didn't want to face the pain from her past, so instead she channeled her creative efforts into fashion and writing with her site JetSetJustine. Fast forward to 2017, Justine connected with Gabby Bernstein and found within her spiritual journey that she needed to accept her past and pursue her passion for music. 
Justine teamed up with Toronto artist and producer L-SPEX for her debut EP Star Seventeen. Her latest drop is the visuals for her single "LITE LITE" which is premiering today, right here, right now. 
We sent a Q&A for her to answer, and she delivered. Scroll through the interview down below and watch the video for "LITE LITE" above. 
How would you describe Stellina under 140 characters?  
A goddess of love.
Describe to us what a typical day in your life looks like?
I wake up to about 1-2 hours of meditation and spiritual work. I journal, pray, pull cards. I am living in another consciousness. Then I'll run some scales. I'll make coffee and do laundry, clean my kitchen, organize my house a bit. Then I'll make lunch for whoever is at my house (which is usually a few people. I think I'm a covert Italian nonna). Then I go to yoga - I help clean the studio twice a week. Sometimes I'll have a coffee meeting with a lovely person I've met from Instagram. I will play piano and work on songwriting. I want to be alone these days, just creating.
If you had to pick a gif that represents your music, what would it be?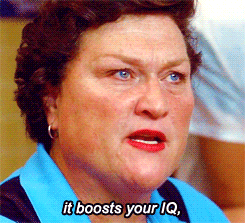 What is something people would be surprised to learn about you?
I once worked as a travelling salesman, for one day, after my mom replied to a ponzi scheme ad in the newspaper as an attempt to find me a summer job.
How was it working with L-SPEX on your debut EP?
It was such a learning experience. I am so fortunate that I could make music so quickly after decided to put my blog on hold. L-SPEX taught me a lot about recording and songwriting, I am forever grateful.
Who came up with the concept of your video for "LITE LITE" and what inspired you?
This was fully L-SPEX's undertaking - he showed me some of his abstract video art (which, I loved because that's what I did my graduate thesis on!!). When I saw his work I was confident he could come up with something very innovative and chillingly beautiful for my music videos.  I was really happy to be able to express my music through the avant-garde cinema genre as it is truly something that I've held dead for a long time. So it made sense for me. L-SPEX ran with the concept and put everything together.
Any upcoming projects you can tease with us? What's to come?
I'm about to cut open a vein and bleed.
#
Get social: