Our Top Fave Canadian Movies Of 2015
Submitted by
Staff Picks
on December 22, 2015 @ 12:15pm.
Canadian cinema gets a bad rap - outside of the hipster gleam of Xavier Dolan, Canadian cinema gets nearly as much recognition outside of Canada as it does within (so, close to nothing). But, as a glass half-full type, most of these films performed better at the box-office than Jem and the Holograms, a multi-million dollar franchise production, so there is hope for Canadian film afterall! Let's take a quick look at the best Canadian films released in the past year.
The Forbidden Room - Guy Maddin & Evan Johnson 
Guy Maddin and Evan Johnson craft a darkly hilarious homage to lost silent cinema in The Forbidden Room, which was shot in part at Montreal's Phi Centre. Told as a series of vignettes, the action begins as a lumberjack arrives on a deep water submarine that is slowly running out of oxygen. A bizarre, phantasmagorical exploration that utilizes a wide range of cult stars and an extended musical sequence about "derrieres" written and performed by Sparks, this one of a kind film even for those already initiated to the unique stylings of Guy Maddin & company.
Chorus - François Delisle
Opening on a confession of a child murderer admitting to the murder of a young child nearly a decade before, Chorus is a heart wrenching drama that reunites a couple separated by the insurmountable pain. Unable to overcome the death of their son Hugo, the couple stagnate in the past and struggles to move forward with their lives. While focused on redemption, the film suggests cynically that love does not always prevail, and the journey of grief is alienating and solitary.
Early Winter - Michael Rowe 
Mexican filmmaker Michael Rowe made waves on the international scene with his film Leap Year, sexually violent thriller that confronted audiences with transgressive images and ideas. Set just north of Montreal, Early Winter opens with a shot of a married couple fucking (making love suggests some kind of affection or warmth), which initiates an uncomfortable argument about Maya's recent inability to cum. As the film progresses, the coldness that exists between Maya and her husband, André, grows until it culminates with a fiery betrayal.
Les Loups - Sophie Deraspe 
Elie arrives on a remote North Atlantic island during the seal hunt, eliciting deep suspicion among the locals who fear she is a reporter come to ruin their livelihood. Front and centre is the cold, inhospitable but ultimately beautiful landscape, which naturally elevates the film's melodramatic trappings to the stylings of an old Hollywood epic. The soap-opera narrative becomes vehicle for the film's politics of survival, as it takes a practical approach to the controversial hunt, and becomes a powerful story of reconciling urban and rural Quebec.
La Blonde aux yeux bleues - Pascal Plante 
The only short film on the list, La blonde aux yeux bleues is nonetheless making waves and picking up a series of prizes across Canada. The story of a Quebec pageant mom on vacation with her young daughter who seems woefully disinterested in the world of pageantry, the film evokes a powerful sense of longing and an encroaching alienation. Told mostly from the point of view of the daughter, the camera drifts effortlessly down the hotel halls and lingers cautiously as the mother and daughter pair rehearse by the shore, creating a powerful and intimate portrait of love and loneliness. 
Ninth Floor - Mina Shum 
Not many people are aware of the riot that shut down Sir George Williams University (now Concordia Uni) in 1969, as a group of students accused a professor of racism and fought to be heard. Tackling the misconception of Canada as a racism-free utopia, Mina Shum's documentary, Ninth Floor, blends talking heads and archival footage to portray the events of 1969 and the echoes of those events in the modern day. An incredible slice of history that reverberates today, Mina Shum's film explores political activism and systematic abuses within Canada with a strong dose of intrigue and outrage.
Guibord s'en-va-t'en-guerre - Philippe Falardeau 
With Guibord s'en-va-t'en-guerre, Philippe Falardeau seemingly does the impossible by making the impenetrably boring Canadian political scene both interesting and funny. Set in a parallel universe where Canada is posed to go to war, and the final decision lies on an independent MP from northern Quebec. The absurd bureaucracy of contemporary politics and the escalating conflict of personalities drives the film's humour and makes for a zany madcap adventure.
Gurov & Anna - Rafaël Øuellet 
Gurov & Anna is about a torrid love affair between a married English teacher and his student which spirals out of control. Based on a story by Anton Chekov, the film takes full advantage of the contrast between Montreal's cutesy, warm, hipster-tinged interiors as a contrast to the encroaching winter cold. The sex in the film is steamy and desperate, and the unfolding romance sold with gusto by Andreas Apergis and Sophie Desmarais, who give career defining performances.
Highway of Tears - Matthew Smiley 
The only film on this list to be screened in the Canadian parliament, Highway of Tears is a documentary about the missing and murdered native women along a 724 kilometer stretch of highway in Northern British Columbia. A harrowing cry for help, Highway of Tears outlines the painful reality of living on the northern reserves and the chilling consequences (at least 500 murdered and missing first nations women across Canada) of the government's inaction and the population's indifference.
Lady Psycho Killer - Nathan Oliver 
For a strong dose of irreverent and trashy horror, Lady Psycho Killer fits the bill, riffing on unappreciated art-form of the after-school special as a frame for a serial killer coming of age tale. Bringing together Ron Jeremy, Malcolm McDowell and Michael Madsen, the film opens with a saucy and hilarious murder at Cafe Cleopatra, setting the tone for the rest of the raucous ride. This oh-so-self aware comedy is not for all tastes, but is an indecently good time, especially with a group of friends.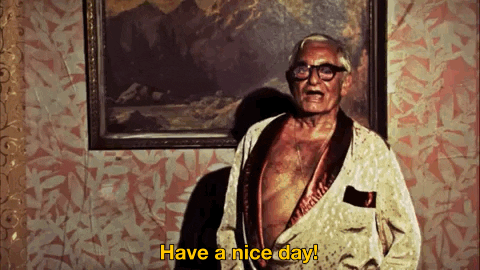 #
This list was put together by Justine Smith, a guest-writer.